NextGen UGM 2019 was packed with new Info Sessions, New Product Releases and more, all designed for exhibitors and attendees a like. What's the goal? For visitors to acquire knowledge, discover new tools, manifest relationships, and also catch the latest product advancements and announcements. We at eMedApps made sure to take in as much new information as possible and now we present you with the top new advancements and announcements introduced at this year's NextGen UGM.
NextGen Acquired Topaz Information Solutions 
Topaz is a healthcare solutions company that brings a large BH (Behavioral Health) customer base, strong domain experience and overall expertise in BH and Integrated Care Market. This puts NextGen in a great position to improve their "delivery of integrated and collaborative care in the BH market, potentially reducing the cost of caring for millions . . ." according to Business Wire. The BH Clinical content will include MAR and Bed Board. BH 3.5 to be released in Spring 2020 that will include both BH 3.0 and Topaz content.
Merger with MedFusion 
There is no official release date set, but with this merger MedFusion will provide the following to NextGen's Patient Portal:  
Live chat support for Patient Portal
Dashboard that displays usage like how many time patients have requested medication refills
Will be available in Spanish
New Patient scheduling
Revamped scheduling search
Can send "pre-service" questions to patient with a link to forms
Pre-service can include pre-payment of copy prior to visit
Patient can take a photo of their insurance card and it will OCR into NextGen
Online Forms
Satisfaction Scores
NextGen Charge Review Rules Engine
This is a Revenue Cycle Rules and Workflow Engine that delivers real automation reducing the cost of running a high-quality business office. This solution will automatically clean data on the front end of the process before it enters the billing system, among other features.
CareFinity Live Archiving
NextGen announced a new solution from eMedApps that will allow organizations to archive and restore clinical records to and from NextGen as needed. Records can be selected based on the age of data, as well as the length of patient inactivity. Archived patient information can be viewed in the CareFinity application and can be restored to the NextGen EHR on demand by authorized users.
Reclaim space in your EHR database for improved system performance
Increase speed when loading patients with high volume visits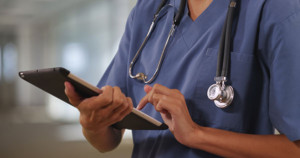 NextGen Mobile
The Mobile versions new "Tap Template" feature will allow structured data to be documented like vitals, medication, etc. This adds to the benefits of having NextGen Mobile as a primary EHR option, especially for clinical staff doing home visits. NextGen plans to continue to push the Mobile version as the main data entry device for providers. NextGen Mobile will also soon be featuring NLP (Natural Language Processing), which is major.
Practice Management
Also referred to as PM, will allow the following new features for NextGen Customers:
Patient Group screen for Group Encounters
New correspondence language field in PM demographics
New hidden insurance workflow to prevent errors related to legacy insurance information
New options to configure default modifiers in the claim modifier library
Auto-balancing of ERA Payment Batches.
ACE or Adaptive Content Engine
The new version of this EHR solution will feature the following:
New SOAP & CPOE Template to be released in Spring 2020
New templates will allow for a more modern look
SOAP template will have:
Adjustable font sizes by the user
Movable panels
Customized views
Only configurable not customizable
 These are just a few of the innovative developments NextGen is sending our way. Give us a shout to talk through how these will impact your workflow. Let's work together to make your NextGen EHR smarter, faster, and easier.