Imagine Your EHR… Smarter, Faster, Easier with our CareBride Interface Engine
eMedApps will be featuring our CareBridge Interface Engine at this year's HIMSS 2020. Our ONC certified interface engine delivers the right data to the right place at the right time and creates a truly connected healthcare network. CareBridge eliminates wasted time jumping from application to application by combining patient data from various disparate systems into a unified view of the patient. 
Our vendor-neutral EHR integration engine is designed to make sharing, managing and accessing patient data across information systems smarter, faster and easier. This flexible solution allows you to build your own interfaces using built-in functions, dive into scripting, or select a managed solution with custom built interfaces created for your needs.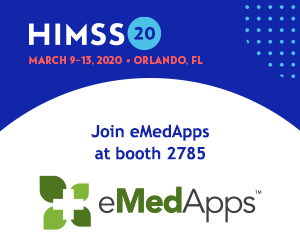 Be sure to stop by Booth #2785  for product demonstrations and more insight into all the solutions eMedApps offers to make your EHR smarter, faster, and easier. Or contact us today talk to one of our healthcare IT associates to learn more about what CareBridge can do to sculpt your existing or desired workflow.