Working with a 4K High-Definition or Retina Display is becoming "the norm," especially with the introduction of new modern notebooks and tablets. The problem is with the newer technology, there can be unforeseen compatibility issues with applications your users rely on daily within Windows 10. 
One of these applications is Microsoft Remote Desktop Services (aka RDP).  Many corporations depend on RDP to allow their employees the ability to securely connect to network applications and resources using a Remote Desktop client, a connection broker or connecting via a remote desktop gateway (aka RDWeb).
No matter what way you connect, having a High-Resolution Display with RDP will leave you with a display that is almost unusable.  Users report problems from small text to icons and images that are misaligned, making the entire experience unbearable.
Many of our clients are using NextGen Enterprise version 5.9 or higher.  If your display settings are not set to 1920X1080 with 100% scaling, the NextGen EHR Templates and some locations in Practice Management are overlapped, unreadable and in some cases too small to read.  This poses a problem for the users.
Sample Display Settings: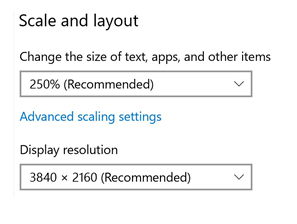 Window's Setting For NextGen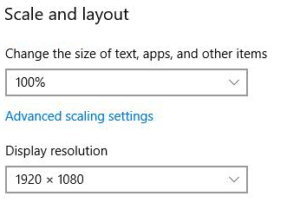 Examples of what happens in NextGen:


Users like their local display settings and don't want to have to change them in order to log into NextGen.  In fact, many of the devices they use have 125%, 150% or higher scaling marked as recommended by their hardware manufacturer.  So why should they have to change it for NextGen?  The result is frustrated users.
After sifting thru many articles on the web, there is a simple solution that allows you to ensure that the user's resolution is always set to 1920×1080 and display scaling at 100% within  the RDP without having to manually change these settings prior to logging into RDP, each time.
Please follow these steps:
Download "RDPHighResolutionFix.zip"
Extract the "RDPHighResolutionFix.zip"
Copy the RDPHighResolutionFix Folder to C:\Temp
Using File Explorer, go to C:\Temp\RDPHighResolutionFix
Right Click on EnableRDPHighResolutionFix.bat and Click "Run as Administrator"
A window will appear stating "The operation completed successfully"
You can now go ahead and log into RDP or RDWeb.  You will notice that the resolution and display scaling is automatically adjusted ensuring that your RDP session is always using the proper display settings, having no bearing on your local Windows 10 Display Settings.  You can set the local display settings back to the user's favorite settings and the users RDP session to NextGen will not be affected!
To download the file complete the form below.
Disclaimer:  This process makes changes to the Windows Registry and the c:\windows folder on the user's device.  It is highly recommended that this be performed on a test device prior to adding it to production.  eMedApps is not responsible for any damage to your device(s).