Complete the form to read the white paper.
EHR Hosting Demystified: 3 Steps to Evaluating and Selecting an EHR Hosting Solution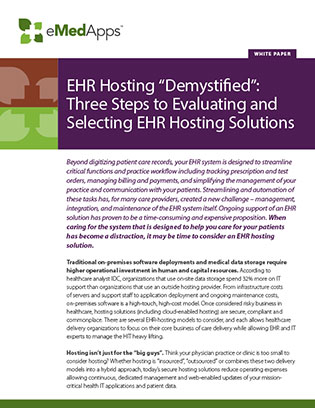 EHR Insourced Hosting, Outsourced Hosting and Hybrid Hosting Models Explored
Ongoing support of an EHR solution has proven to be a time-consuming and expensive proposition. When caring for the EHR has become a distraction to caring for patients, it may be time to consider an EHR hosting solution.
This white paper discusses:
The 3 most common EHR hosting strategies
Determining whether hosting is right for you
ROI and cost evaluation between hosting and on-premises solutions