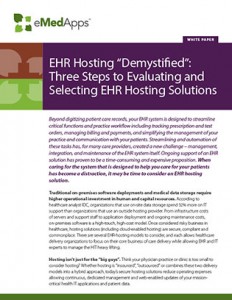 EHR Hosting Demystified: 3 Steps to Evaluating and Selecting an EHR Hosting Solution
For many clinics and group practices, the ongoing support of an EHR can be a time-consuming and expensive proposition. When caring for the system that is designed to help you care for your patients has become a distraction, it may be time to consider an EHR hosting solution. This white paper explores three EHR hosting approaches, the "pros and cons" of each, along with valuable tips on hosting contract terms and vendor selection.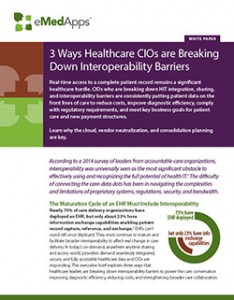 3 Ways Healthcare CIOs are Breaking Down Interoperability Barriers
Real-time access to a complete patient record remains a significant healthcare hurdle. CIOs who are breaking down HIT integration, sharing, and interoperability barriers are consistently putting patient data on the front lines of care to reduce costs, improve diagnostic efficiency, comply
with regulatory requirements, and meet key business goals for patient care and new payment structures. Learn why the cloud, vendor neutralization, and consolidation planning are key.