The MIPS 2022 Proposed Rule has been released. Take a look at some of the highlights related to Traditional MIPS that could impact your organization.
Clinical Social Workers and Certified Nurse Mid-Wives would be included in the eligible clinician definition.
CMS is proposing that the performance threshold is 75 points and the additional exceptional performance threshold would be set at 89 points.
2022 Performance Category Weights are set at: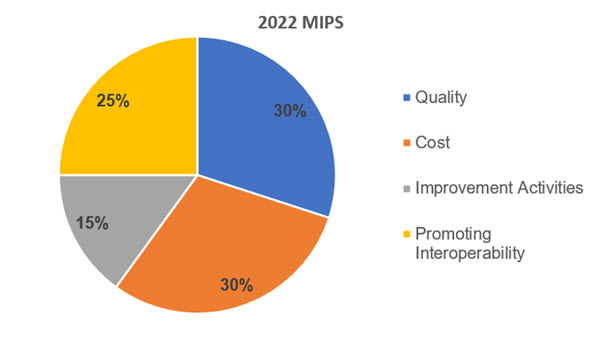 Additional Proposals
Quality Performance Category Proposals include:
Removing the end-to-end electronic reporting and high priority measure bonus points
Removing the 3-point floor for scoring measures
Using previous performance score benchmarks such as 2019 for scoring
Extending the CMS Web interface option for registered parties
Updating measure inventory to 195
Increasing the data completeness requirement to 80% in 2023
Cost Category Proposals include:
Proposal to add five new episode-based cost measures
Newly proposed measures would also include case minimums calculated with administrative claims data
Improvement Activity Category Proposals include:
Proposal to add seven new activates
Proposal to modify 15 current activates and modifications that would focus on health equity
Proposal to remove six activities that are currently available.
Promoting Interoperability Category Proposals include:
Proposal to auto-apply automatic reweighting to clinical social workers in small practices
Proposal for revisions to various reporting requirements
You can find additional proposals surrounding Care Compare, MVP's, Advanced APM's, ACO's & the Medicare Shared Savings Program on the Quality Payment Program website. You can also find resources and the full proposed rule.
What approach have you taken to prepare for the 2021 MIPS reporting year? Have any ideas or tips of your own? Share them with us in the comments section below, we would love to hear from you.