Complete the form to read the white paper.
3 Ways Healthcare CIOs are Breaking Down Interoperability Barriers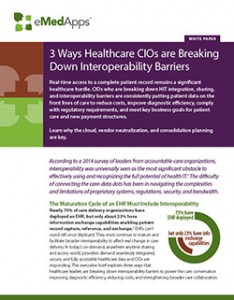 Cloud Hosting, Vendor Neutralization, and Consolidation Planning Explored
Real-time access to a complete patient record remains a significant healthcare hurdle. CIOs who are breaking down HIT integration, sharing, and interoperability barriers are consistently putting patient data on the front lines of care to reduce costs, improve diagnostic efficiency, comply with regulatory requirements, and meet key business goals for patient care and new payment structures.
This white paper discusses:
The growth in adoption of EHR cloud hosting solutions
The impact of a vendor-neutral health IT ecosystem
Why consolidation planning protects your investments